The AGILITYnews.eu team is proud to announce that today we reached 50.000 pageviews since the launch on 15-02-15 at 15:02:15 and would like to thank the 9.636 users that made this happen.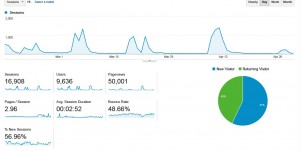 Coverage from live events shows peaks in the pageviews, but also the general interest articles are very popular.
The national and international calendars are consulted daily.
It confirms that AGILITYnews.eu is meeting the need for more and centralised international agility news and coverage.
More events are coming up and more news will be brought.
Are you  interested to join our NewsTeam  and help making the AGILITYnews.eu site even more interesting, please contact us.