The Belgian KC (K.K.U.S.H) has started an offensive against handlers who participated in what they say are 'dissident organisations'.
Several clubs received a letter with the names of members that according to K.K.U.S.H violated article 12 of the internal regulations of K.K.U.S.H.
The letter remains very vague and holds no details of actual facts but nevertheless the clubs are asked to expel the mentioned handlers as a club member.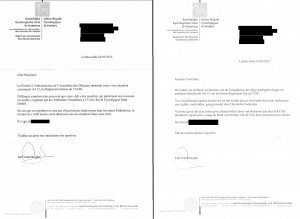 —- updated:
Translation from the letter in French:
The Administration Committee of the Assembly of Delegates asks for your full attention regarding article 12 of the internal regulations
Various messages proove us that members of your club participate in competitions that are organized by federations that are dissident to KKUSH-URCSH
If these members will not resign from their membeship to the other federations , the committee of the Assembly of Delegates insists on the resignation of these members from your club .
It concerns : -names-
Please accept my sportive greetings,
Translation from the letter in Dutch:
The members of the board of the Assembly of Delegates ask your attention regarding article 12 of the internal regulations of the NPO (=Non Profit Organisation)
By various sources we draw the conclusion that your club has members that participate in Agility competitions that are organised by Dissident Federations
In the event that these members will refrain from participating in these KKUSH dissident organisations, the board asks you to expell these persons
It concerns: -names-
With the most sportive greetings possible,